Chess: Viswanathan Anand plays out draw with Magnus Carlsen in game 8
Updated on Nov 19, 2014 02:18 AM IST
In the eighth game of the World Chess Championship, Viswanathan Anand, playing with white pieces, shared honours with Magnus Carlsen. With just four games left, Magnus leads 4.5-3.5, with two white games for each player remaining.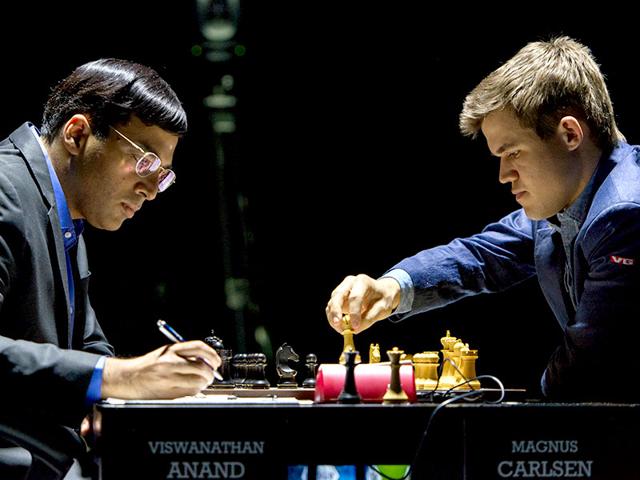 In the eighth game of the World Chess Championship Viswanathan Anand playing with white pieces drew with Magnus Carlsen.
Game board
Trapping Anand with home prep
In game 8, Queen's Gambit - d4 Nf6 2. c4 e6 3. Nf3 d5 - was played in the opening. Learn more about Queen's gambit here.
From the very first move Carlsen was in 'blitz mode'. Magnus was very well prepared for the game and so he replied for Anand's moves in lightening speed.
Susan Polgar, famous chess commentator, wrote in her live blog, "He is playing mind games with Anand. He's telling Anand that I'm well prepared for my stuff."
Magnus played the first 17 moves in fifteen minutes, while Anand took one hour. A 45 minute clock gap within 17 moves was threatening for Anand. It seemed like Magnus had trapped Anand using his home preparation.
Variation
The first variation from theory came from Carlsen.
RD8 - first variation from theory
Anand took a lot of time to respond for this variation. For some reason World No 2 Fabiano Caruana didn't like this variation played by Magnus, he tweeted, "Surprised Carlsen is playing such a risky variation. No doubt he analysed it, but it's hard to account for all White's options."
This move changed the course of the match. Anand recounted this during the press conference, "This is not the most common move in this position. It wasn't the top move I was expecting. Still two white games left, so let's see"
Pieces exchanged
Magnus soon started exchanging pieces at will. In just five moves, from 23 to 29, both the queens and all the rooks were off the board.
Chess Arena's (a chess platform) commentator rightly pointed out "Carlsen is exchanging every piece on the board and why wouldn't be? He is still leading, and next game he'll be playing White."
Dead-draw position
From then on there was nothing to play for. The board had no threatening pieces and it was a dead-draw. Both players played out for sometime and then agreed for a draw.
Chess Arena commentator added, "With four games left, one must wonder when will the Tiger of Madras jump. He is a point behind and will certainly attempt something new and intriguing in the coming games."

With just 4 games left, Magnus leads 4.5-3.5, with 2 white games for each player.
Wednesday will be a rest day followed by game 9 in which Anand will be playing with black pieces.
Previous games
|
|
|
|
|
|
Add this to your flipboard
Dont's miss any stories, follow our World Chess Championship magazine