Pro Kabaddi League (PKL 7), UP Yoddha vs Bengal Warriors Highlights: Bengal Warriors beat UP Yoddha 48-17
Updated on Jul 24, 2019 08:37 PM IST
Bengal Warriors produced a solid all-round display to beat UP Yoddha 48-17. This was the first match of the season for both teams and it was the Warriors who came out on top as they recorded their biggest win in the history of Pro Kabaddi League. The raiding duo of Maninder Singh (9 points) and Mohammed Nabibaksh (10 points) troubled the Warriors' defence all night and chipped in with crucial contributions. Baldev Singh put on a solid display of brute strength and toughness and scored 7 tackle points.Follow highlights of UP Yoddha v Bengal Warriors here: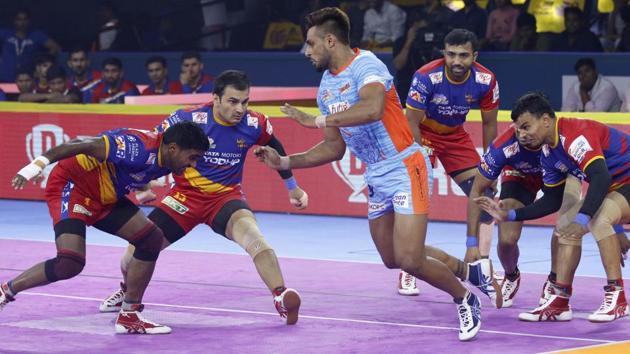 20:26 hrs IST
Warriors win 48-17
Bengal Warriors beat UP Yoddha 48-17. A brilliant victory for the Warriors and they absolutely deserved it. Mohammad Nabibaksh with 10 rais points and Baldev Singh with 7 tackle points for the Warriors!
20:13 hrs IST
Absolute domination
This is just too easy for Bengal Warriors! They have looked in complete control since making it 5-5 in the first half and right now, they are just going through the motions. This will be a huge confidence boost for them but UP Yoddha will have rethink their strategy. Warriors lead 40-17
20:03 hrs IST
Warriors in cruise control
Absolute domination by Bengal Warriors! UP Yoddha have already lose their entire team twice in this encounter and at present, they are trailing 15-34! This is looking way too easy for the Warriors.
19:53 hrs IST
Warriors lead at HT
End of first half and Bengal Warriors lead 17-9 against UP Yoddha. Monu Goyat has not been quite effective for the Yoddhas and sensible defense by Warriors have seen them dominate this encounter.
19:41 hrs IST
Good start for UP
UP Yoddha were off to a flying start but Bengal Warriors have fought back well to make the score 5-6. The teams are exchanging unsuccessful raids at the time with the Warriors having the personnel advantage.
19:29 hrs IST
It's game time
The teams are out in the middle and it is time for the match! Bengal Warriors will be leading the first raid after the toss and the match is underway!
18:30 hrs IST
Will Bengal maintain the edge over the Yoddhas?
UP Yoddha's only win against Bengal came in the last league game of PKL 6.
Close Story
Personalise your news feed. Follow trending topics