Alumni connect: Creative work excited me and so I worked with theatre group in college, says Partha Thakur
Updated on Nov 30, 2018 04:10 PM IST
He recently completed a show for YouTube called ARRived with music director and composer A R Rahman and singers Shaan, Clinton Cerejo and Vidya Vox.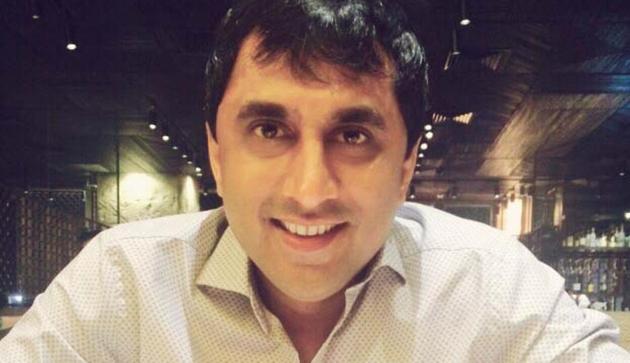 Hindustan Times, Pune |
Prachi Bari
Partha Thakur, 39, is the creative producer with Banijay Asia, a Global Content production giant. He works on Fiction and Non Fiction content for Television Networks and web content platforms across India . He recently completed a show for YouTube called ARRived with music director and composer A R Rahman and singers Shaan, Clinton Cerejo and Vidya Vox. With over 19 years of experience in media and entertainment, Partha has produced content for broadcasters such as Zee TV, Star plus, Star World, Sony Entertainment Television, Colors, MTV, Sun TV, Vijay TV, NDTV, Pogo, Disney Network, UTV and Fox Traveler. He worked on some of the biggest brands on Television like Indian Idol, Fame Gurukul, Nach Baliye, Dance India Dance, Saregamapa, IIFA Awards, Zee Cine Awards, Commonwealth Games Ceremonies to name a few and several Television shows and events across the world.
He talks about his growing up, his journey so far and his future endeavours.
How were you in academics- a bright student, average or below average?
While studying at Abinav Vidyalaya, I was an regular average student. I loved languages and opted to learn German. I was more into sports and played Lawn Tennis at the national-level and had a state ranking for roller skating. I won many trophies and awards throughout my school life. After my school years, I developed interest in two things - Food and Entertainment. Last 20 years i am pursuing my first interest - to work in the entertainment business. Cooking continued to be a hobby till date and maybe will become a profession some day.
From which department and what specification(s) did you graduate?
After finishing School, I joined Brihan Maharashtra College of Commerce. I thought commerce would be a little less taxing and I would have more time on hand to pursue my creative ambitions. My father, Dr. Kiran Thakur, a senior journalist and one of the most respected academicians, inculcated the habit of writing in me during my growing up years. And thanks to his guidance and teachings, I started writing small features for the college magazine and also wrote briefly for a local newspaper. Creative work always exited me and hence I opted to work with the theatre group in the college. I would either work backstage or get involved in the creative part of a theatrical production. I was also the cultural secretary in BMCC. During this time, there was pressure to pursue a more secure future, like CA, ICWA or CS. Under pressure, I joined the Company Secretary course, but I did not complete it. I think, my heart was just not into it. My mind wandered looking for newer horizons. Through my theatre contacts, I got introduced to Sanjay Dabke and Atul Tamhankar and began my internship with their company Bars & Tone Television in Pune. I would say Sanjay Sir is my first mentor ever. He gave me my first insights in the entertainment business. I was all of 17 then. While working with them, I came across a VHS camera which I repaired. I started video recording for a wedding which was my first assignment. I shot several weddings myself, which for some reason was frowned upon then.
What happened after graduation?
After graduation, I wanted to enrol for the graduation course in direction in The Film and Television Institute of India (FTII) In 1999 but the institution was on a strike which lasted a few years. Though I was disappointed I decided to join Department of Media & Communication Studies (then it was Department of Communication Studies, University of Pune) and went ahead. During the duration of the course, I Co-Produced and Co-Directed a short film called Pehchaan with friends which got selected for screening at MAMI (International Film Festival in Mumbai) in 2000. Along with my post graduation, I started freelancing with Shivranjani Studios, Setu Releases and Market Missionaries. I worked on music videos, wrote copies for local advertisements, assisted on everything that came my way. The idea for me was to learn as much as i could, in all spheres of entertainment. I used to look for people who would inspire me and show me the path. What i learnt in these years, has stayed with me even today and has helped me be grounded person I was 20 years back.
Tell us about your journey?
It was not easy to find a job immediately in my field after post graduation. Unlike many of my friends, I got a lot of rejections and was home bound for months. And in Mumbai, its extremely depressing and frustrating to be in that situation. Especially, when you dont know how much and when I am going to eat next and how you are going to survive the day with what you have in your pocket. I finally got to intern briefly with ETC Network and then found a job with MTV where I worked for 10 months. It was in 2002 that I finally found a job with Searchlight Productions, an Ad-Film Production house where Veena Bakshi took me in as an Assistant Director and after about three years I became the first assistant director, but I found that it was time to move on and hence I was referred by a friend to join a production house that was making content for Television. Miditech Productions, owned by Niret Alva and his brothers was just starting with the very first season of Indian Idol and they were looking to build a team. I was hired in 2004 on a salary of ₹28000, and I was surprised that people get paid so much. Earlier I was paid only ₹7000. Meeting my mentor Sanjay Dabke was the most important milestone of my life. Another important step was joining Miditech Productions. This changed my life and gave me the headway into the field of reality television. And today, I owe a lot to both Sanjay Dabke and Niret Alva.
Please tell us about your upcoming/current project?
I am looking forward to the Indian adaptation of the new season of The Voice. I head the creative content and execution of the show. Its currently in its pre production phase. I have several other productions under development which will come out on various networks soon.
Personalise your news feed. Follow trending topics