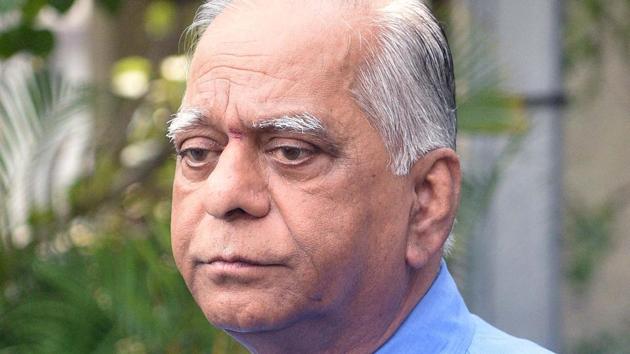 Central bank to auction Pune developer DS Kulkarni's land at Balewadi, Pune
The Central Bank of India in a public notice published in local newspapers on Wednesday said that the auction will take place on March 6 with the reserve price for the land, decided by the bank, as
₹
66.39 crores
UPDATED ON FEB 21, 2018 08:25 PM IST
Embattled Pune real estate developer DS Kulkarni's troubles have further increased with the land he owns being put up for auction by the public sector bank.
The Central Bank of India in a public notice published in local newspapers on Wednesday said that the auction will take place on March 6 with the reserve price for the land, decided by the bank, as ₹66.39 crores. The action by Central bank has come after the group controlled by Kulkarni, popularly known as DSK turned defaulter to the tune of ₹82 crore, which was taken as loan by mortgaging the land parcel at Balewadi and Phursungi.
DSK's son Shirish, who is the managing director at DSK Developers Limited – the holding company of various firms controlled by DSK and family – accepted that the Balewadi land is being auctioned by the bank. Shirish said, "Property has been up for auction since January. It's the second time that they are issuing an auction notice."
In its notice, Central Bank said, "Since the account borrower (DSK Global Education and Research Limited) has failed to repay the loan amount and interest on it, the bank has decided to sell the property on as is where is basis under section 13(4) and 9(1) of Securitisation and Reconstruction of Financial Assets and Enforcement of Security Interest Act, 2002." The land put up for auction by the bank is mostly lying unused, said bank officials.
The bank has named DSK's wife Hemanti as director of the firm on which loan has been taken. In its notice, the bank has asked "interested parties" to submit their bids by March 7. The bids will be opened on March 8 at 11:30 am. The bank has already taken possession of the land on November 6 last year, said the notice.
Following multiple police complaints pertaining to cheating investors, DSK along Hemanti were arrested from Delhi on Saturday by the Economic Offences Wing (EOW) of the Pune police. The builder was later shifted to Deenanath hospital following complaints of neurological disorder.
The 10-member team comprising doctors from government-run Sassoon hospital examined the real estate developer on Tuesday and came up with the report that DSK has suffered 'acute brain infarct', equivalent to a minor stroke.
Earlier in November last year, the Central Bank took possession of another land parcel owned by DSK group in Phursungi after it turned defaulter. In its earlier notice published in November, the bank said that the amount owed to the bank by DSK owned group together with interest as on April 2017, stands at ₹82,00,39,081.
DSK's arrest has come after the Bombay high court on February 16 vacated an interim protection offered to the duo, restraining police from arresting them. The husband and wife duo are accused of duping over 2,000 investors, who put their money in DSK's construction business through fixed deposits, to the tune of ₹230 crore.
Close