Pune students take the road less travelled and volunteer to give back to society
A number of students have decided to join organisations working with underprivileged communities, either voluntarily or as part of their curriculum.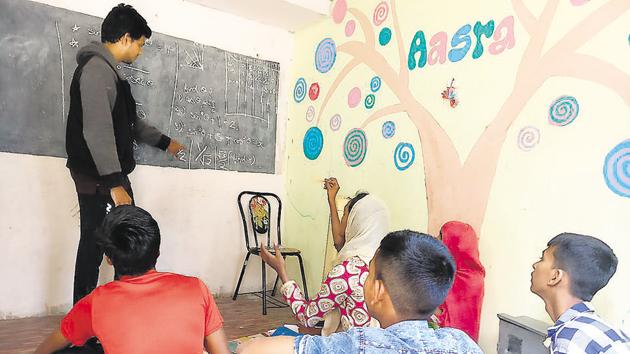 Updated on Apr 13, 2018 04:09 PM IST
Hindustan Times, Pune |
Ananya Barua
While most students prefer to enjoy a long vacation or spend their time as an intern after a month of exams, many from Pune have decided to take the road less travelled by volunteering for community service in order to give back to society.
"Students like us are very privileged to have opportunities to receive a good education and eventually go on to start a secure career. Education is not just a tool to uplift just oneself, it is also about giving back to the society and that is exactly what drove me to join Reach Out, which is a student-run NGO," said 22-year-old Shraddha Dalvi, a BCom graduate from Fergusson College. Like Shradda, a number of students have decided to join such organisations, either voluntarily or as part of their curriculum.
Twenty-two-year-old student of Manasa Rao, a fifth year law student from Symbiosis Law School (SLS), along with her classmate, Shishira Johny (22) had begun Reach Out in August 2016 to provide legal and health assistance to women in oppressed communities, in addition to imparting education to children from these areas.
Speaking about the recent trend towards volunteering, she said, "We get a lot of requests from young college students asking if they can join as volunteers, especially after the exam season. Sometimes, it is a part of their curriculum, like it is in all Symbiosis colleges, but for many it is a purely voluntary decision. At the end of the day, such an experience pushes one to see beyond their privilege, which I feel is extremely important for the future leaders of the country."
Run by a core team of six female students, and over 350 volunteers, the organisation has been reaching out across Pune and beyond, emphasising on issues like menstrual hygiene and Devadasi intervention programmes among others.
Twenty-year-old Oshin Bamb, a second year history student, said, "These college years are vital and these experiences are priceless and will teach you much more than you can ever learn in a classroom or an office." A volunteer with Project Aasra under the 'I Care' initiative, in collaboration with Sahyadri Nature Foundation, Oshin has been teaching general history at a slum near NIBM, Ishrat Baug.
Led by Mohammad Saif (25), a political science graduate from Fergusson College, project Aasra has been working towards providing meaningful education to children living in slums. "We have students coming from several colleges. Many of them work as teachers, educating students through an interactive, activity-based method. Our ultimate aim is to help children understand the importance of education and its relevance today.
Teaching is always a two-way street. At the end of the day, volunteers often feel that they have learnt much more from the children, than what the children have learned from them," said Saif.
Close Story
Personalise your news feed. Follow trending topics