HT Explainer: Anganwadi workers want pay hike, services regularised
Hindustan Times |
HT Correspondents
Mar 10, 2018 10:21 AM IST
No child's play: Though Haryana and J&K have assured increase in pay, it doesn't match the expectations of protesters; cash-strapped Punjab puts onus on Centre.
More than 1 lakh anganwadi workers and helpers in the region have been on the warpath for a month in support of their demands for better pay and regularisation of their services. Hindustan Times takes a look at why the women basic healthcare workers have taken to the streets despite assurances from the J&K, Haryana and Punjab governments.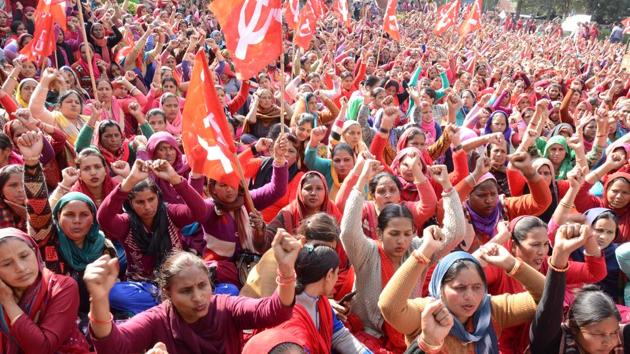 Who are anganwadi workers?
Stay tuned with breaking news on HT Channel on Facebook.
Join Now
There are 60,000 anganwadi women workers and helpers in Jammu and Kashmir, 54,000 in Punjab and about 50,000 in Haryana. They provide basic health care for mother and child in rural areas. The anganwadi workers ensure antenatal and postnatal care for pregnant women and diagnosis and care for newborns. They administer immunisation to children below six years.
Why are they on strike?
The anganwadi workers in Punjab are paid Rs 5,400 a month but they want their salary hiked to Rs 10,000, while the helpers, who get Rs 2,700 a month are demanding Rs 5,000. They want the Punjab government to release food material and pay rent for the centres.
The workers in Haryana want their services regularized. The workers and helpers are demanding a monthly salary of Rs 18,000 and Rs 10,000, respectively.
In J&K, the anganwadi workers and helpers are demanding the release of pending salaries for six months. They want their monthly pay hiked from Rs 3,600 to Rs 10,000 and from Rs 1,800 to Rs 6,000, respectively. All J&K Anganwadi Workers and Helpers Union president Suman Suri says the honorarium has not been increased for 10 years. They want provision of gratuity at the time of retirement at 65years.
Since when are the workers on strike?
Members of the All Punjab Anganwadi Workers and Helpers Union have been sitting on dharna outside the state finance minister Manpreet Badal party office in Bathinda for the past 40 days. Anganwadi workers in Haryana have been on strike since February 12, while their counterparts in Jammu and Kashmir have been protesting for 38 days.
What the government says
The Punjab government says the workers are part of a central project. "With limited financial resources at the state level, we can hardly do anything to increase their salary. As far as the food material is concerned, we have started the delivery process," a senior government official said, requesting anonymity. Union president Hargobind Kaur says by allowing admission in government schools at three years, the state government has failed anganwadi centres.
During the ongoing budget session, Haryana chief minister Manohar Lal Khattar appealed to anganwadi workers and helpers to call off their strike as the government has categorised them as skilled and semi-skilled workers besides increasing the income of skilled anganwadi workers to Rs 11,429 and semi-skilled workers to Rs 10,286 and that of helpers to Rs 5,715. He assured them of all benefits admissible to skilled and semi-skilled workers, including provident fund and holidays.
J&K social welfare minister Sajjad Lone also said an increase in honorarium is under consideration and the issue will be taken up with the finance minister shortly.
(With inputs by Ravinder Vasudeva, Ravi Krishnan Khajuria and Neeraj Mohan)