Jalandhar diocese: The region's most powerful seat for Roman Catholics
Sep 23, 2018 11:24 AM IST
Until the Partition in 1947, the region came under the diocese of Lahore, looked after by the Capuchin missionaries of the Belgian province.
A day after Franco Mulakkal, the former Jalandhar diocese bishop, was arrested for raping a nun, HT explains the jurisdiction, domain and functioning of the diocese, the region's most powerful seat for Roman Catholics with a considerable political clout.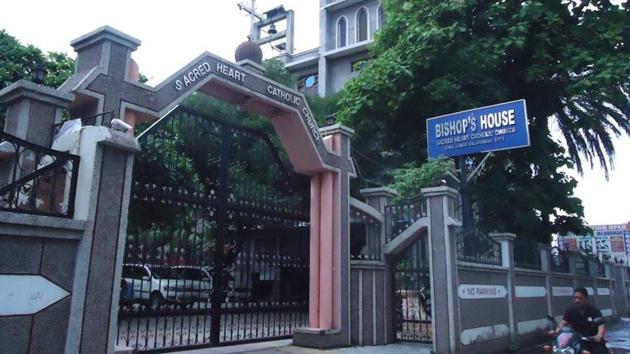 Jurisdiction
The word diocese is derived from Greek term 'diokesis', which means administration. Today, it is used in an ecclesiastical sense, which means churches under the jurisdiction of a bishop. There are 174 catholic dioceses in India, which promote and oversee all spiritual activities of the church. All the bishops report to the office of the Pope in Vatican City after coordinating with their respective archbishop, the highest rank of a bishop.
History
Until the Partition in 1947, the region came under the diocese of Lahore, looked after by the Capuchin missionaries of the Belgian province. On January 17, 1952, the Apostolic Prefecture of Jalandhar was created and on December 6, 1971, it got the status of diocese and Symphorian Keeprath was appointed as the first bishop. Currently, the bishop resides at Sacred Heart Catholic Church in Jalandhar.
Areas under it
Bishop, who is head of the diocese, has vast area and a population of 1.5 lakh under his control. The diocese looks after Punjab's Amritsar, Faridkot, Fazilka, Ferozepur, Gurdaspur, Hoshiarpur, Jalandhar, Kapurthala, Ludhiana, Moga, Muktsar, Nawanshahar, Pathankot, Tarn Taran districts and Anandpur Sahib tehsil of Ropar in Punjab. Some districts of Himachal Pradesh — Chamba, Hamirpur, Kangra and Una — also come under the Jalandhar diocese.
What it controls
The Jalandhar diocese has control over 120 churches having 150 priests. There are around 50 schools, one degree college (Trinity College) in Jalandhar, and around 10 hospitals across Punjab and Himachal Pradesh, the administration of which the diocese looks after.
Source of funding
Most of churches under the diocese have schools, which are doing very well. As the St Mary's cathedral is concerned, it mainly depends on the offerings from the people.
Clout and controversies
Mulakkal has been staying in Punjab for the last three decades and was considered to be very close to Shiromani Akali Dal president and Punjab's former deputy chief minister Sukhbir Singh Badal till 2017. In the Vidhan Sabha elections of Punjab in 2017, the bishop aligned with the Aam Aadmi Party (AAP), which could not do well in the state.
Soon after being appointed as the bishop in June 2013, Franco Mulakkal had paid obeisance at the Golden Temple in Amritsar, which did not go down well with Christian community.
The road ahead
Even though, Pope Francis has appointed Bishop Agnelo Rufino as bishop of Jalandhar diocese on temporary basis, it may take six months to a year to appoint permanent bishop for the diocese once bishop Franco offers his resignation to the Pope.