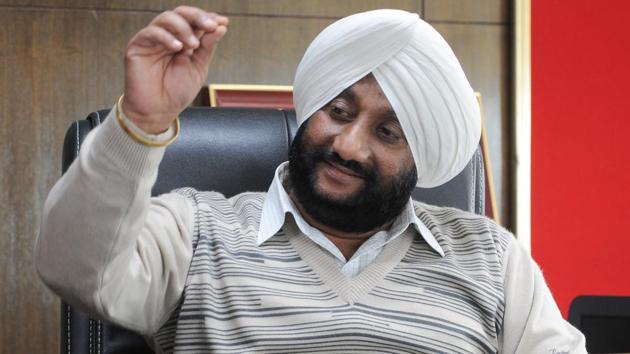 My hands are tied, I am unable to deliver: Mohali mayor Kulwant Singh
"I am unable to perform for the last six months. The local government department is objecting to most of the agendas cleared by us."
UPDATED ON JAN 20, 2018 10:35 PM IST
Mohali mayor Kulwant Singh, who's been in a spot after local government minister Navjot Singh Sidhu, issued show-cause notice to him for purchasing a tree pruning machine worth 1.79 crore, claims he is unable to deliver due to political bickering.
Why was there a controversy over the tree pruning machine?
I will not comment on the issue as the matter is in the court now. A good quality machine should not be compared with locally-made one.
Where is this machine at present? How much payment is pending?
The machine is with the contractor in Mohali. Till we get a go ahead from the government, we cannot use it. A payment of 80 lakh is pending.
Why are you in the middle of this controversy?
Everyone knows what is going on. Do I really need to speak on this? But I believe things will eventually fall in place. My intention is to work for the welfare of people. As a mayor, I am not doing anything for my benefit. I believe in delivering the best. When the government realises it, everything will be fine.
What are the challenges you face?
I am unable to perform for the last six months. The local government department is objecting to most of the agendas cleared by us. The estimates have also not been cleared for nearly six months, leading to delays. The MC staff remain busy in addressing questions posed by the local government department instead of doing any meaningful work.
Stray cattle, a major issue in Mohali, are rampant in your ward. Why is the MC unable to rein them in?
Cattle menace is a result of political interference. These cattle are owned by about four to five families in villages around Mohali, who enjoy political patronage. The major problem areas are Kumbra and Mataur. We have issued around 100 notices for releasing cattle on the road but to no avail. The police are also reluctant to register any complaints against them and in some cases the MC staff is also hand in glove with the violators.
Residents have been complaining about ill-kempt parks.
We had tasked a contractor with maintaining the parks. After four months of awarding the contract, the government asked us to slash the contract rate to one third of the original. It also did not release the payment for those four months. The contractor reduced the manpower to one-third, and you can see the results.
What are your plans for the city? Your realty projects in Mohali don't find any reflection here.
I want to give the best possible infrastructure to Mohali. But my hands are tied. I have to get permission from the local government and that takes a very long time. You cannot compromise on quality. I spend the way I want in my projects. Here, I am put under scrutiny for no reason if I want to spend on a project.
What is your dream project?
Mohali is a well developed city, it just needs to be maintained properly. We need to upgrade it continuously. If given a free hand for one year, I can create world-class infrastructure. Be it basic infrastructure, sewage or sanitation, I will bring about a visible change. I want to come up with a one-of-its-kind project, which can become the identity of the city. I have some plans in mind, and will discuss these with the chief minister. If this project gets the green signal, it will be a landmark in Mohali.
Poor sanitation is also a major issue. Why can't Mohali be as clean as Chandigarh?
Sanitation is not much of an issue in Mohali now. But to make it cleaner, we need the co-operation of residents. The MC staff cannot be present everywhere, the residents themselves need to act responsibly.
Do you think Mohali is becoming unwieldy? Do we really need so many apartment complexes?
Mohali is a well-planned city. Be it locals or NRIs, everyone from Punjab wants to invest here. It is a well developed city with good connectivity to different states; and it still has potential for further growth.
Close