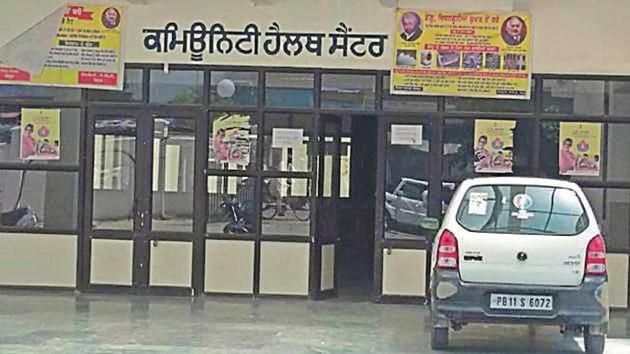 Tandarust Punjab mission: Staff crunch ails government health centres in Sangrur
As many as 108 posts of medical officers and specialists are lying vacant against the 198 sanctioned posts in the district.
Hindustan Times, Sangrur | By Avtar Singh
, Sangrur
UPDATED ON AUG 10, 2018 02:19 PM IST
Even though Punjab government has launched the Tandarust Punjab mission with an aim to make Punjab healthy, the acute shortage of doctors at the government hospitals in Sangrur district paints a completely different picture.
Two community health centres (CHCs) in Sangrur are run without any medical officer in the district. And the de-addiction centres are also awaiting appointment of psychiatrists. As many as 108 posts of medical officers and specialists are lying vacant against the 198 sanctioned posts in the district.
"Shortage of doctors has forced specialists at the Sangrur civil hospital to perform night duty. As a result, patients are facing problems in the OPD, the next day. There are 33 sanctioned posts of specialists and MOs at the civil hospital, but 11 are lying vacant," state the records at the civil surgeon's office.
"It is difficult to manage things due to shortage of MOs and specialists. We deploy experts in emergency wards on night duty, it affect our OPD services," said senior medical officer (SMO) Dr Kirpal Singh.
At the CHC in Sherpur town, of the seven posts of MOs, six are lying vacant. The hospital that caters to the needs of over 40 villages in the area, is being run by a dentist. At Longowal town, only a skin specialist SMO (administrative post) is serving at the CHC.
"I have called two MOs on deputation to perform their duties two days a week. However, sometimes they have to go for court hearings and are unable to come. Also, we have no doctor for delivery cases," said CHC Longowal SMO Dr Anju Singla.
The scene at government hospitals in Malerkotla, Sunam, Dhuri, Moonak, Bhawanigarh, Kauhrian and Amargarh is also similar. These medical institutes are seeking recruitment of doctors on priority basis.
The residents of Sherpur area have declared that they will go on an indefinite strike outside the Sherpur CHC from Saturday, if doctors are not appointed.
"We have informed many ministers about this staff shortage, including health minister Brahm Mohindra, but no to avail," said Lok Manch Punjab president Sukhdev Singh Bari.
"We have called a meeting on Saturday. If doctors are not appointed before that, we will go on an indefinite protest," Bari added.
Deputy commissioner (DC) Ghanshyam Thori said that two permanent psychiatrists will soon be appointed at the Sangrur and Malerkotla government hospitals. "We have written to the additional chief secretary regarding the requirement of medical offices and specialists at government hospitals in the district," Thori added.
Close