New business hubs emerging in Oshiwara, Kalyan, Bhiwandi, Thane
As commercial centres such as Bandra-Kurla Complex and Lower Parel become saturated, developers are stepping in with new-age plans.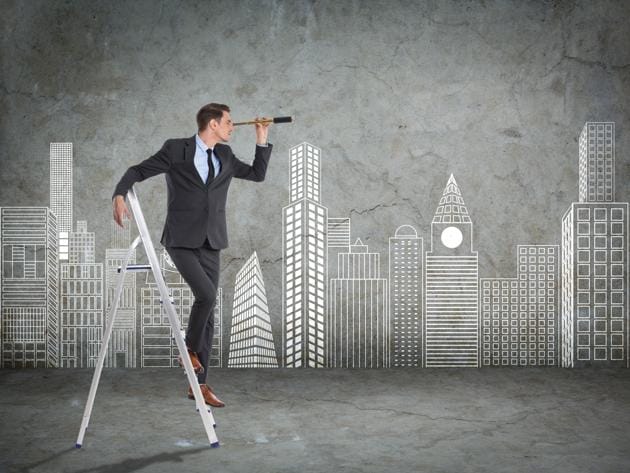 Published on Apr 21, 2018 08:05 PM IST
Hindustan Times |
Nolan Lewis
A city's financial district is where its economic pulse lies. Its exact location, however, tends to be dynamic and in flux, often oscillating between the heart of a city and its outskirts. Over the past few decades, Mumbai's traditional business districts of Nariman Point and Worli have found newer siblings in Bandra-Kurla Complex (BKC) and Lower Parel.
Now, even that is changing. As these areas reach saturation point, Maharashtra chief minister Devendra Fadnavis recently granted permission for the 122-hectare Wadala Truck Terminal to be developed as Mumbai's third official CBD (Central Business District), after Nariman Point and BKC.
In the regional plan, are three SBDs (Secondary Business Districts) — Kharbao in Bhiwandi, Nilaje in Kalyan and Shedung in Panvel. These new development will multiply job opportunities in regions around Vasai-Virar, Mira-Bhayander, Thane and Bhiwandi.
The long road home
Mumbai remains one of the most expensive residential realty markets in India, with an estimated 29% of the city's under-construction units costing more the ₹1 crore per flat, according to a recent report by realty consultancy Knight Frank. As the city's young, white-collar population moves to the fringe suburbs of the Mumbai Metropolitan Region, including areas in Navi Mumbai and Thane, some of their employers are moving too.
"Unlike the generation prior, the millennial isn't keen to spend a few hours of his workday in a commute, urging realty developers to plan markets closer to where the labour force is," says Shrikant Joshi, CEO of L&T Realty.
L&T is tapping into the growing reluctance to commute with Seawoods Grand Central, a transit-oriented business park where Navi Mumbai's Seawoods railway station occupies one level.
"Seawoods Grand Central one of the few transit-oriented developments in India," says Shrikant Joshi, CEO of L&T Realty. "The design and development are in keeping with the concept of a smart city, where everything from infrastructure to mobility and urban development are viewed and planned as interconnected aspects. This commercial project leverages rail and arterial road connectivity."
Around the world, there are vast examples that we are still aspiring to, such as Canary Wharf in London, IFC Hong Kong, Shinjuku Tokyo and Mockingbird Station in Dallas. These too had replaced older and more traditional business districts no longer able to meet the growing demands for space.
"All of Mumbai's historic commercial centres have become outmoded as demand grows and populations shift. There is no scope for redevelopment either. Most were in Mumbai's southern areas, where a far smaller share of the population now lives," says Ashutosh Limaye, head of research at JLL India. "The ones now finding favour are new and evolving commercial hubs such as Powai and Vikhroli, and planned business zones like Belapur."
BKC junior?
"An analysis of Mumbai's growth pattern over the last few decades shows that the city has been expanding without adequate investment in the development of trunk infrastructure such as access roads, public transport, solid waste management, recreational space, and adequate water supply. Trunk infrastructure has usually been added haphazardly as an afterthought in an ad hoc way," states a JLL study published on the emergence of Oshiwara as Mumbai's newest district centre.
The Oshiwara District Centre (ODC) is being touted as the next BKC. The Mumbai Metropolitan Region Development Authority is looking to capitalise on the new railway station nearby, Ram Mandir, and upcoming Metro routes that will connect Oshiwara to Seepz, Bandra, Colaba, Dahisar and Mankhurd by 2019.
Six 90-ft roads are planned within the ODC for easy flow of traffic.
Further afield, in Thane district, green buildings make up K Raheja Corp's Mindspace in Airoli East. Here, office space comes with LEED certification, electrical car charging stations, low-flow faucets and fixtures, organic gardens and waste management facilities.
In Ambernath, the renowned architect Hafeez Contractor's GNP Galaxy is a commercial and manufacturing hub with two sister projects, GNP Galleria and GNP Arcadia, simultaneously being developed in Dombivili.
All three parks are estimated to be complete by January 2021. "Our GNP Galaxy site is on the border of Ambernath and Ulhasnagar. While Ambernath has an MIDC, Ulhasnagar is full of illegal constructions. The nearest white-collar commercial hubs were in Kalyan, 12 km away. We zoned in the need for a full-fledged business park that would engage the local population." says Rohit Dixit, sales director at GNP Group.
What next?
Does this mean Nariman Point and BKC will be dethroned by the new spaces? Not anytime soon, says Vikas Oberoi, CMD of Oberoi Realty. "With India rising on global investment charts and Mumbai being positioned as an international financial centre, there is enough opportunity for commercial hubs across Mumbai and its suburbs to thrive and coexist," Oberoi adds. "BKC was the first business district to be set up outside the island city, and with its superior planning of office spaces, will continue to be one of the topmost business districts in the state. We believe there is opportunity for every business district to thrive."
The shift goes hand in hand with the migration of residential projects to suburbs and fringes of MMR.
"There is in fact still a need for more CBDs within MMR," says Kamal Khetan, CMD of Sunteck Realty. "The new airport in Navi Mumbai could in fact drive demand in a whole new cluster."
The Raheja District II business park in Juinagar, in fact, is already looking to capitalise on the proposed Navi Mumbai Airport Influence Notified Area, or NAINA. There is a plan for a parallel World Trade Centre-like outfit here. And a helpdesk to guide businesses through Customs, tax procedures, government incentive programmes and issues.
"Navi Mumbai is set to be the next commercial centre for this region, and it will have better facilities, connectivity, affordability and social infrastructure. It will set the market on a new trajectory," says Ashish Raheja, MD of Raheja Universal. "NAINA will increase the boundaries of Navi Mumbai, leading to increased opportunity as real-estate is built to meet the growing needs of a diverse range of businesses."
Close Story