People are terrible at spotting fake photos, study shows
Published on Jul 18, 2017 11:42 AM IST
Participants in the study could only spot a manipulated image 6 out of 10 times and in less than half of the cases they could pinpoint what was wrong, the study found.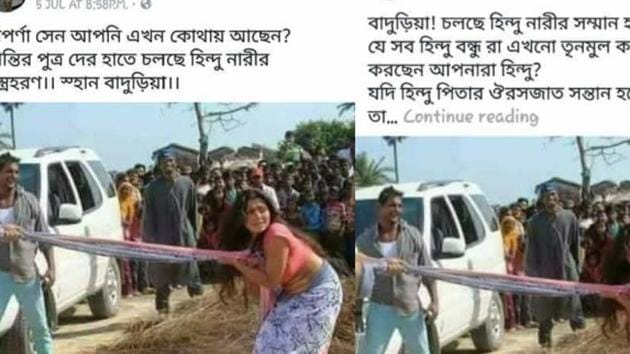 New Delhi: The trigger for the recent spasm of violence in West Bengal was a Facebook post showing a derogatory depiction of Prophet Muhammad shared by a Hindu teenager. Clashes between Hindus and Muslims in the state were fanned by provocative images and messaging on social media networks.
Some of the most inflammatory material was either fake or shared out of context.
BJP IT cell secretary Tarun Sengupta was arrested from Asansol, West Bengal, for posting fake images of a Muslim policeman beating a Hindu man. A Hindu man was arrested for sharing a grab from a Bhojpuri movie of a group of men molesting a woman and passing it off as a ground report. A BJP spokesperson shared an image of mob violence that was not from Basirhat, where the latest incident took place, but from the Gujarat riots of 2002.
While sharing images out of context is harder to identify, a new study finds that people are able to detect actual manipulation of images only 6 out of 10 times, and can only accurately identify what the problem is less than half of the time.
"So even though people are able to detect something is wrong they can't reliably identify what exactly is wrong with the image," Dr Derrick Watson, study co-author from the University of Warwick, said in a release. "Images have a powerful influence on our memories so if people can't differentiate between real and fake details in photos, manipulations could frequently alter what we believe and remember."
The scientists created 40 images from 10 original images, 6 of which were subject to manipulations. These modifications included things that were physically possible and even things that were physically impossible.
The online survey was taken by 707 participants who were shown 10 images one after another, 5 of which were altered. Participants were asked to spot the ones with modifications and identify the modification. Even in cases where the participant indicated they thought the image was genuine they were asked where alteration might have taken place.
Less than half of the times they were able to pinpoint what was the problem.
There have been attempts to tackle the wider problem of fake news but it would appear people are very susceptible and trusting of what they see.
Take the test to find out if you can identify the fake ones here.