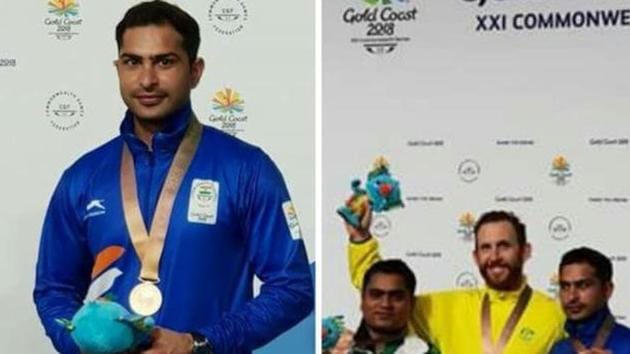 Commonwealth Games 2018: Two gold, two bronze and a silver in UP's kitty
In all, 12 athletes from UP had participated in the Games out of whom shooter Jitu Rai and weightlifter Punam Yadav could win gold
PUBLISHED ON APR 17, 2018 03:47 PM IST
As India celebrates its third richest medal haul (66) at the Gold Coast Commonwealth Games, athletes from the country's most populous state Uttar Pradesh could contribute only five medals – two gold, one silver and two bronze.
In all, 12 athletes from UP had participated in the Games out of whom shooter Jitu Rai and weightlifter Punam Yadav could win gold. Other medal winners included Seema Punia (silver in discus), Divya Kakran (bronze in wrestling) and Ravi Kumar (bronze in shooting).
Saraswati Raut (weightlifting), Vandana Kataria (women's hockey), Ashish Kumar (gymnastics), Mohd Asab, Anuraj Singh and Seema Tomar (all shooting), and Lalit Upadhya (men's hockey) returned home empty handed.
"The achievement for the state is remarkable in terms of medals. The number could have been higher had there been a professional setup for sports in the state. There is no dearth of talent but we need adequate facility and job security for sportspersons in UP," former director, sports, Vijay Singh Chauhan said on Monday.
"There is no short cut for success in sports. We need to make sports compulsory in school curriculum. Promotion of sports should also be a priority for the state government if we really want more athletes win medals at events like Commonwealth Games, Asian Games and Olympics," said Chauhan, who is also known as 'Iron Man of Asia' for setting up a record in athletics.
He said special talent hunt in rural areas of the state should be carried out. "Sports and sportspersons should be encouraged in rural areas. Most of the games are based on strength and power. Even a small ground in every gram panchayat is sufficient for the development of sports in villages," he said.
Former deputy director, sports, Neeru Kapoor hailed the achievements of UP athletes at Gold Coast Games and said more athletes from the state should have participated in the event.
"Being the biggest state of the country, we have a big sea of talent in sports but to motivate them we need to have more encouragement," he said.
"The overall performance of UP athletes is encouraging but in terms of population, our contribution of medals is quite small. We should find ways to raise the medals tally at Commonwealth Games after four years in 2022," he said.
A total of Rs 1.80 crore will be distributed by the state government among all 11 athletes. Both Punam and Jitu will be given Rs 50 lakh each as per the government policy while Seema will be given Rs 30 lakh. The two bronze medallists will get Rs 15 lakh each while all seven other participants will receive Rs 5 lakh each as participation allowance.
Meerut's Ravi Kumar, who had won bronze at the 2014 Asian Games in 10m air rifle before winning a bronze at the Gold Coast Games, said he would try to change the colour of his medal in the Asian Games.
Close