The academies shaping India's footballing future
Jan 27, 2023 09:29 PM IST
If India wants to get better at the world's most popular game, then AIFF can't do all the heavy lifting. That is where academies come into the picture.
Detached from the hustle and bustle of Mumbai rests Berverly Park, a sprawling residential enclave in Navi Mumbai's Kopar Khairane. In one of its multiple tall towers, there's some heightened activity for a December afternoon. A table split into half keeps a couple of kids busy in ping pong. Elsewhere a few are engaged in a round of carrom. As the clock ticks closer to 3:30pm, kids assemble in the dining hall.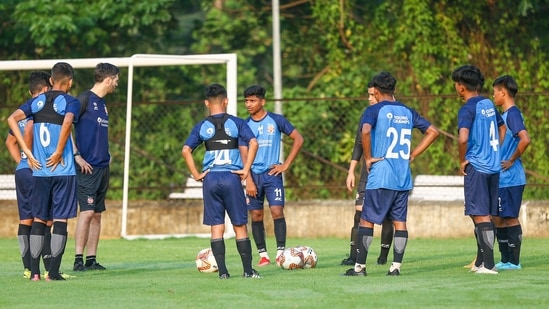 The FIFA World Cup was entering its final stages, but the kids have their own football to play. They hop on to a bus for a 10-minute drive for their evening's training session with a stunning mountain backdrop.
The RFYC, a residential academy offering fully-funded scholarships, is among the premier football academies in India that earned the highest 5-star tag by All India Football Federation four years after its inception in 2015. RFYC isn't alone though. Many more in the country have set up shop from much before—a few after too—in the Indian football academy structure that feeds young talent into the system.
Nine from RFYC's first batch of graduates in 2020 found clubs in the Indian Super League (ISL), including Muhammed Nemil who has played for FC Goa, Ayush Chhikara at Mumbai City FC and Koustav Dutta at Hyderabad FC, to name a few. Now 20, they were all part of RFYC's foundation year in 2015 as U-13 kids.
RFYC's most recent intake was of players born in 2009 — each of them trains at the Reliance Corporate Park which has two fully floodlit pitches (one astroturf) and is housed at the Berverly Park complex comprising a swimming pool, gym, badminton, squash, tennis and basketball courts.
Its 33 full-time staff includes 10 football coaches (two goalkeeping), coaches for strength and conditioning, video analysis, sports psychology, nutrition, physiotherapy and a head of child welfare and education.
The RoundGlass Punjab Football Academy has a similar structure, currently housing 94 kids across five age groups starting from the U-11s to U-18s in its residential setup. "We also have 650 players in our grassroots program within Punjab," said Ed Engelkes, technical director (youth), RoundGlass Punjab FC.
Down south, FC Madras is relatively new to the game. Founded in 2018, the 3-star youth academy also has a residential system—it was briefly halted due to the pandemic—for its two U-13 and U-15 batches. Including its non-residential programme, it presently has around 150 kids who train at FC Madras Arena turf in Chennai.
Scouting
The pan-India hunt for new players by RFYC is through an intense scouting process through 19 full-time scouts. The system has four layers that filters talent from a larger pool to a regional review session to a regional camp before shortlisting 65 for the final camp.
"For us, the priority is technical ability of the player, not the physical aspect," Stephen Charles, head of scouting, said. "We want to have players who are comfortable with the ball, with or without pressure."
RoundGlass Punjab conducts scouting trials in and outside Punjab "looking for creative players who fit in our system" after undergoing "specialised drills". "Another way of scouting is to observe players from teams which we face or from various age-group tournaments," Engelkes said.
Development
At RFYC, kids train five times a week, with matches on weekends. GPS enabled, each session is recorded using spiideo cameras installed at the turf, from which data is collected and fed into Pro Soccer Data, an online management platform that also centralises all player data.
At RoundGlass, the U-15, U-16 and U-18 groups train five times a week while the U-11 and U-13 groups have four sessions. "Our six coaches work with a 12-week training plan and prepare the sessions under guidance of the technical director," Engelkes said.
RFYC follows a six-week cycle for "systematic training and principles" focused on attack and defence.
"We don't have to create a team that is good in defending; we need a player who understands, after six years when he leaves the academy, how to make the pitch small," Dutchman Sandro Salami, the academy's head of youth who has worked as a youth coach at Dutch clubs NEC and PSV Eindhoven, said.
Foreign exposure
According to Salami, some of their most competitive matches are intra-academy games. The level of competition in city, state and even national age-group tournaments often leaves a lot to be desired—for instance, in one of Mumbai Football League's age-group tourney, RFYC top the table with a 100-plus goal difference—apart from the age fraud menace.
That's where foreign exposure helps. "We can keep telling the kids to play faster. This way, they get to see what faster is," said Mark Vaessen, head of coach education at RYFC. "We're also honest. We don't send an U-18 team to PL clubs, because we are not there yet. Till U-15, we can go to England. The older ones can go to Japan, where we can still compete."
Feeding the system
RoundGlass Punjab has a first team in I-League, and Engelkes said many of their academy boys have been promoted to reserve and first teams. Four from the academy are part of the national U-20 side and two of the U-17 team.
Only some ISL clubs are proactive in fishing for young talent at these academies. RFYC, therefore, makes individual player profile videos and sends them to all clubs. If and when offers arrive, the final decision rests with the player.
That's what the Tata Football Academy (TFA) was renowned for since its inauguration in 1987. It fed a consistent chain of players into Indian football, with many internationals carrying the TFA stamp. but that hasn't been as bold of late.
"There are not many players coming up from TFA now compared to our times," said Godfrey Pereira, among TFA's first batch of players.
One of the key factors, Pereira reckoned, was the academy now having a first team in the ISL in Jamshedpur FC. It invariably shifts goalposts. "When the main team plays in the ISL or I-League, your full attention tends to go towards it. You're not focused on the grooming of players. That has taken a backseat as far as TFA is concerned," Pereira said.
That said, return on investment isn't an unreasonable expectation from an academy viewpoint. Without it, sustainability could be a challenge.
Enjoy unlimited digital access with HT Premium
Subscribe Now to continue reading