Show of strength as WFI's Singh presides over national meet
Jan 21, 2023 11:49 PM IST
Asked to step aside as wrestling federation president while a sports ministry panel probes accusations of sexual harassment by top wrestlers, Brij Bushan Sharan Singh is the centre of attention at a ranking event in his home town Gonda.
Barely a fortnight ago, there was huge celebration with garlanding, presentation of bouquets, shouting of slogans and the cutting of cake to mark the 66th birthday of Brij Bhushan Sharan Singh, the Wrestling Federation of India president and BJP Lok Sabha MP, in the presence of a huge crowd at the Nandini Nagar Stadium in his home town Gonda, Uttar Pradesh.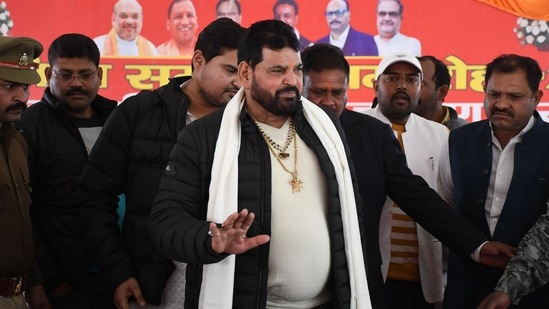 Much has changed in the last three days after the country's wrestlers, led by Olympians Bajrang Punia, Vinesh Phogat and Sakshi Malik, accused Singh of sexual harassment and intimidation as the head of the federation.
It stunned everyone in Gonda and they are not ready to accept these allegations, even after union sports minister Anurag Thakur asked Singh to step aside on Friday night until an inquiry panel set up by his ministry submitted its report into the allegations in a month. But it didn't seem to have changed anything for Singh.
People again came in large numbers to greet "Neta ji", as his supporters address him, as he inaugurated the three-day Open Senior National Wrestling Tournament at the same venue in Gonda where his birthday was celebrated.
"Woh hamare neta hain aur hum unkey supporters hai. Hum unke khilaf har aarop ka muqbala karengey" (He is our leader and we are his supporters. We will fight against all the allegations levelled against him)," said Ramshanker, a local farmer, as he watched the bouts on Saturday.
Over 100 SUVs, jeeps and other vehicles were parked at the venue. More than 500 posters, cut-outs and billboards inside and outside the stadium of Brij Bhushan Sharan Singh sporting a "pagdi" (headgear) were put up, giving the impression of a huge political rally. The cut-outs of his son and nephew giving their posts in WFI as well as other institutions run by him in and around the district too announced his strength and standing in the region.
Unlike his routine of speaking loudly on the mike all the time, Singh though was sitting calmly for most of Saturday. He, however, held discussions with WFI assistant secretary Vinod Tomar (he was suspended from his post by the sports ministry on Saturday evening) throughout the day. In between, he posed for selfies with his supporters with a team of photographers and videographers present to record his every action.
The frequent visits of 'sadhus' and 'maulavis' to greet Singh also marked the day and over 70 people sat with him on the dais. Distribution of sweets (ladoos) and food for everyone in the campus made the day of around 800 students a school in the campus of the Nandini Nagar Sports Stadium.
"It's all about his love and affection for the people of this area and it's not the first time when you are seeing such a scene. It remains a routine feature whenever a wrestling event takes place here," said Vijay Marathe, executive member of the Maharashtra Wrestling Association.
"I have been a regular visitor to this place and other nationals in the last 12 years across the country, but I don't see such a fabulous arrangement for everyone in a domestic championship," he said. "I am still not ready to accept the allegations of any kind of harassment as I never came across any such incident," he said "If this had been the case, some female wrestlers from Maharashtra could have spoken about this as they too have been regulars to the national camps and other domestic events."
In all, 271 wrestlers, including over 50 from Haryana, attended the first day of the tournament. The number is expected to go up when bouts in the Greco Roman division start on Sunday. "Even wrestlers from Haryana, who left the event in a hurry to join the agitating wrestlers at New Delhi last night, would join the event," local official Sanjay Mishra said.