Australian Open final: How Stefanos Tsitsipas can defeat the indomitable Novak Djokovic for maiden Grand Slam title
Jan 29, 2023 03:39 PM IST
Ahead of the blockbuster meeting in the Australian Open final on the Rod Laver Arena, we take a tactical dive into the factors that could help Stefanos Tsitsipas beat nine-time champion Novak Djokovic...
After thrashing Alex de Minaur in the fourth-round tie earlier this week, nine-time Australian Open champion Novak Djokovic was asked on the remainder of the draw. Of the seven men left, he narrowed it down to just Stefanos Tsitsipas, but for Djokovic, their only ever Grand Slam final meeting, at the 2021 French Open, had faded into oblivion. (Novak Djokovic vs Stefanos Tsitsipas Australian Open 2023 Final Live Score)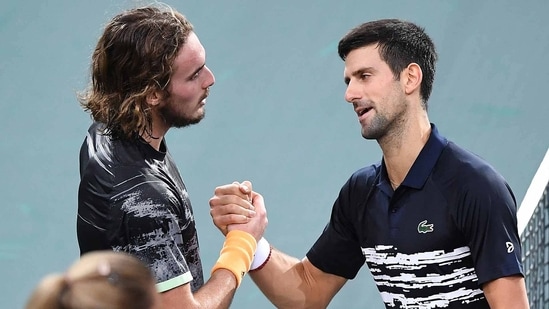 "Tsitsipas [is] probably the most experienced guy out of all the quarterfinalists. He has played the final stages of a Grand Slam quite a few times. I think he has never played a final. Am I wrong?" asked Djokovic.
On being reminded by the journalist, he smirked and said, "That's right. Sorry, my bad."
In the context of their second Grand Slam final meeting, and first ever tie at the Australian Open, one could call it mind games. But for a player so has incurred just two losses in a Grand Slam since 2021 and only two on the tour since May last year, it could be rightfully down to the Serb's sheer forgetfulness. Tsitsipas' loss from two-set lead in Roland Garros is part of his indomitable Slam streak. Add to that Djokovic's 9-0 record in the Australian Open final, 27-0 record in Melbourne Park since 2019 and 9-2 head-to-head record against the Greek and the 24-year-old has one of the toughest barriers to break in a bid to claim his maiden Grand Slam title.
But here stands Tsitsipas, the only man, of the 63 others, from his section of the draw, standing between Djokovic and his unprecedented 10th title at Rod Laver Arena, having reached the final by playing his career-best tennis. He sure has the weaponry to pull off an upset in the final, but against an opponent of this stature, Tsitsipas needs to be flawless with his skill, consistent with his aggression and poised from the inside. Ahead of the blockbuster meeting in the Australian Open final on the Rod Laver Arena, we take a tactical dive into the factors that could help Stefanos Tsitsipas beat nine-time champion Novak Djokovic...
"Stefanos should call Daniil!"
When Karen Khachanov was asked about how Tsitsipas could beat Djokovic, moments after his semifinal loss to the third seed, the Russian was apt in pointing out that "nobody from that generation beat him, except Daniil I think in the US Open final," before cheekily adding, "Maybe Stefanos has to call to Daniil to ask him what he did that day (smiling). I don't know if that's going to happen..."
It is unlikely that Tsitsipas would give the 2021 US Open winner a call, given their on-court tensions, during their rivalry meetings, which is well-documented. But it wouldn't harm the Greek to keep aside his differences and revisit Medvedev's winning strategy at the Flushing Meadows.
Bouncing back the thrashing he received from Djokovic in the Australian Open final at the start of that year, Medvedev decided to change his plan and overload the Serb's Ad court with umpteen backhand-to-backhand exchanges, although much of that tactic also relied on the Russian's ultra-flat backhand which gave Djokovic nothing to work with.
Pull a leaf out of Holger Rune's book
The only player to have troubled Djokovic since last May, apart from Rafael Nadal in the French Open quarters, was the young Holger Rune. And it was Djokovic during his best run in 2022 and at one of his most favourite venues, the Paris Bercy. On back of titles in Tel Aviv and Astana, Djokovic had reached his eighth final in Paris Masters, hoping to add a seventh title to his name at Bercy. But his run was halted by an aggressive Rune who used a rather risky approach in scripting a turnround in the match and it was all down to his serve.
The Danish used the Serve + 1 forehand approach which handed his 16 of the 18 points. The strategy allowed him to unsettle Djokovic by taking time away from him.
One of the crucial factors that could alleviate Tsitsipas' chances of beating Djokovic for the first time in 10 meetings is sheer aggression - willingness to keep the rallies short, not allow Djokovic from settling into long rallies and baseline exchanges, and come to the net as often as possible.