Latest from australian open
Ashleigh Barty's decision to walk away at the peak of her game is rare. She added Wimbledon to her list of big wins in 2021 and signs off with a memorable victory in the 2022 Australian Open.
Nadal roared back from two sets down to edge Daniil Medvedev 2-6 6-7(5) 6-4 6-4 7-5 in a classic final on Sunday, only months after fearing his glorious career might be over because of a niggling left foot injury.

The Spaniard completes a sensational rally from two sets down to defeat Russian world No 2 Daniil Medvedev in five sets to become the most successful men's Grand Slam champion

The Australian Open win shows that tennis is the single biggest thing that continues to drive the tennis champion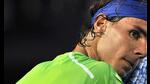 Rafa Nadal has now taken his Grand Slam tally to 21, one more than both world no one Novak Djokovic and Roger Federer.