Why Roger Federer wanted to share Australian Open title with Rafael Nadal
Updated on Jan 29, 2017 07:34 PM IST
Roger Federer, after his fifth Australian Open win, said he would have accepted a draw against Rafael Nadal in the final. He also congratulated the Spaniard for a wonderful comeback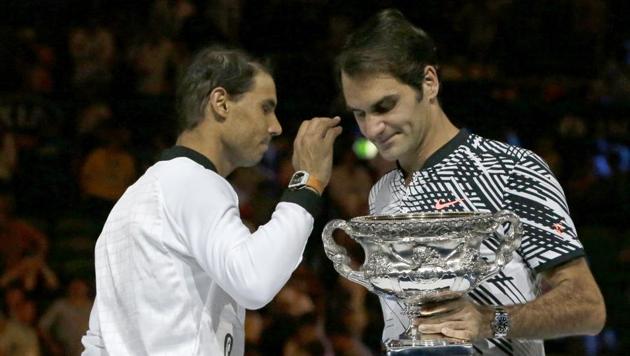 An emotional Roger Federer wiped away tears and urged Rafa Nadal to stay with him on the tour for years to come after felling his great rival to win his fifth Australian Open on Sunday.
Completing a brilliant comeback after six months out of the game, the nerve-shredding 6-4, 3-6, 6-1, 3-6, 6-3 win gave Federer a long-awaited 18th grand slam title that many thought beyond the 35-year-old Swiss.
Having endured a decade of grand slam heartbreak against Spaniard Nadal, 17th seed Federer roared back from 3-1 down in the tense final set, riding a wave of crowd support at a heaving Rod Laver Arena to mow through five straight games.
Federer sealed the title with a forehand winner on the second championship point but had to endure a nervous wait as Nadal challenged the line call.
The ball was good and Federer jumped in the air, with tears welling up in his eyes, having won his first grand slam title since Wimbledon in 2012.
Federer was presented with the Norman Brookes Challenge Cup by Australian great Rod Laver, sharing an embrace with the 11-times grand slam champion.
'Happy to accept a draw'
"I'd like to congratulate Rafa on an amazing comeback," Federer said at the trophy ceremony.
"I would have been happy to lose, too, to be honest, (my) comeback was perfect as it was. Tennis is a tough sport, there are no draws but if there was going to be one I would have been very happy to accept a draw tonight and share it with Rafa."
The win snapped Federer's six-game losing streak to Nadal at the grand slams, with his last major win over the Spaniard coming at the 2007 Wimbledon final.
It made Federer the first player ever to win five titles at three different grand slams and at 35, the oldest grand slam winner since Ken Rosewall won the 1972 Australian Open at 37.
"Everybody says they work very hard, I do the same," said Federer, who arrived in Australia full of doubts after coming back from a knee injury.
"I wasn't sure if I was going to make it here but here I am and we made it.
"Stay on the tour, keep playing Rafa, please, tennis needs you, so thanks very much for everything you do."