Actor Saif Ali Khan has likened the box office failure of his films Kaalakaandi, Laal Kaptaan and Chef to a 'mini death in the family', but said that the experience made him want to stop chasing commercial success.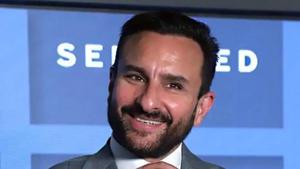 Updated on Jan 07, 2021 04:39 PM IST
Adipurush director Om Raut was asked if Saif Ali Khan has a 'foot-in-mouth problem', after comments made by the actor attracted negative attention towards the film.

Updated on Jan 06, 2021 05:49 PM IST
Actor Saif Ali Khan's comments about creating a humane Raavan in Adipurush were misunderstood, the film's writer Manoj Muntashir has said, admitting that the film won't paint the demon king as an 'all-black figure'.

Updated on Jan 06, 2021 02:03 PM IST
An Uttar Pradesh-based advocate filed a case against Saif Ali Khan and his Adipurush director Om Raut for hurting religious sentiments. Earlier this month, Saif had said that the film will make Raavan 'humane', which he later retracted.

Updated on Dec 15, 2020 09:47 PM IST
After a certain section of the internet slammed Saif Ali Khan's comments about portraying Raavan in a 'humane' manner in Adipurush, the actor has issued an apology and retracted his statement.

Updated on Dec 06, 2020 03:23 PM IST