Students belonging to Left affiliated AISA and others, and the Akhil Bharatiya Vidyarthi Parishad (ABVP) clashed over non-vegetarian food in the dinner menu of the Kaveri Hostel on Sunday evening when Ram Navmi was being celebrated.

JNU clashes: The violence started reportedly over a hostel mess serving non-vegetarian food on the occasion of Ram Navami.

At least six students sustained injuries on Sunday after two rival groups clashed allegedly over a JNU hostel mess serving chicken on the occasion of Ram Navami.

Even though there has been outrage on social media demanding action against the leader, police in Vijayapura are yet to register an FIR against the leader.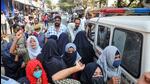 The FIRs were registered after the two groups complaint against each other following a brawl over using of the students union's room inside the university for a meeting.