At least 1,100 residents of Manipur's Jiribam and surrounding regions have crossed state borders into neighbouring Assam

Updated on May 06, 2023 04:59 PM IST
The official death toll in the air strike near a remote Kanbalu township on Tuesday remains unclear, though the shadow National Unity Government (NUG) has said 165 people were killed

Updated on Apr 14, 2023 02:03 PM IST
A 35-year-old woman was cheated of ?1.74 lakh ($2,330) by a fraudster who posed as a potential groom on a matrimonial website. The man claimed to be a project manager at a Turkish diamond firm and gained the woman's confidence before asking for her postal address and sending a parcel that claimed to contain foreign currency. The woman received a call purporting to be from a customs official who demanded ?38,500 for the parcel. The woman paid the money but was then threatened into paying more. An FIR has been registered and police are investigating.

Updated on Apr 03, 2023 12:23 AM IST
The International Tourism Mart in Mizoram's Aizawl will bring together tourism business fraternity and entrepreneurs from the eight Northeastern states in India

Updated on Nov 17, 2022 09:51 AM IST
PTI | | Posted by Zarafshan Shiraz
, Aizawl
These seizures were just the tip of the iceberg, an official of the Wildlife Crime Control Bureau (WCCB) said.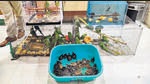 Updated on May 23, 2022 11:16 AM IST