Earthquake: In India, the tremors were felt across Delhi-NCR region, Jammu and Kashmir, Punjab, Haryana and Chandigarh.

Published on Mar 22, 2023 12:53 PM IST
The man has been indentified as Asif Ganai, the son of late Ali Mohd Ganai; he is currently being treated at a hospital.

Published on Feb 24, 2023 08:14 PM IST
This is the second targeted attack on non-locals in the Anantnag district this month.

Updated on Nov 13, 2022 04:48 AM IST
Army assault dog Zoom, who was injured during an encounter in Jammu and Kashmir's Anantnag district on Monday, is in a stable condition but the next 24-48 hours are crucial to decide the further line of treatment, senior army officers said on Wednesday.

Updated on Oct 13, 2022 04:39 AM IST
"He (the terrorist) killed in Anantnag has been identified as Nisar Khanday (commander of proscribed terror outfit HM), who was active since 2018," a police spokesman said.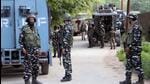 Published on Jun 04, 2022 11:48 PM IST