The social activist said on Sunday the state govt has assured him it will consider citizens' views before going ahead with the decision to allow sale of wine at walk-in stores and supermarkets.

Published on Feb 13, 2022 04:51 PM IST
Hazare said in his letter to chief minister Uddhav Thackeray that the Maharashtra government's decision to sell wine was taken solely given the growing revenue of the western state and the interests of wine growers and sellers.

Updated on Feb 09, 2022 05:00 PM IST
By
Harshit Sabarwal | Edited by Aryan Prakash
, New Delhi
Filmmaker Hansal Mehta said that he had once supported Anna Hazare and Arvind Kejriwal but now considers them to be mistakes. Much like his experience of making the 2017 film Simran.
Published on Jan 30, 2021 02:06 PM IST
In a statement earlier in the day, Hazare (84) had announced that he will be starting the hunger strike from his village Ralegan Siddhi in Maharashtra on Saturday.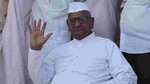 Published on Jan 29, 2021 09:13 PM IST
Hazare stated in the letter that it was written in the assurance that the decision has been taken by the Central Government to fix the minimum support price (MSP) 50 per cent more than the cost.

Published on Jan 14, 2021 08:48 PM IST