Weather stations in Antarctica shattered records Friday as the region neared autumn. The two-mile high (3,234 meters) Concordia station was at 10 degrees, which is about 70 degrees warmer than average, while the even higher Vostok station hit a shade above 0 degrees.
Published on Mar 22, 2022 08:26 AM IST
A plastic bust of Vladimir Lenin, founder of the USSR, oriented so that his face looks towards Moscow, was installed in the heart of Antarctica in 1958. It stands there still, but few visitors ever make it this far inland.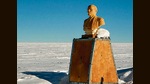 Updated on Feb 12, 2022 07:00 PM IST
They had been in Antarctica since before the start of Argentina's vaccination campaign in 2021, and were due to travel to the capital to be jabbed.
Published on Jan 21, 2022 10:53 AM IST
Antarctica is getting busier, with new research stations, rebuilding and more tourism activities planned. Our challenge is to keep it pristine under this growing human activity and climate change threat.

Published on Nov 20, 2021 02:29 PM IST
PTI |
, Hobart, Australia
Earth's protective ozone layer depletes and forms a hole over the South pole every Spring due to the human-made chemicals.

Published on Sep 17, 2021 05:54 PM IST