Ahead of Aashram 3 trailer release on Friday, MXPlayer has given a sneak peek into the new season that stars Bobby Deol as the notorious Baba Nirala.

The foundation stone for the underpass was laid down by the chief minister Arvind Kejriwal on December 24, 2019 and it was initially expected to be completed by December 2020.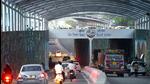 Expressing extreme displeasure on the management of the ashram, the court said that prima facie the institute is functioning in violation of the Women's and Children's Institutions (Licensing) Act, 1956.

Last month Sisodia, who also holds the PWD portfolio, had said the facility will be opened for the public on March 22 but it could not be done because of non-completion of work.
While issuing a show cause notice to Adhyatmik Vidhyalaya ashram in Rohini asking why their unit should not be taken over by the state government, the court directed the deputy commissioner of police concerned to ensure that its inmates are "not removed" before the matter is heard again on April 21.