"We cannot change what happened, but it must never happen again," the 100-year-old Holocaust survivor said.

Published on Jul 05, 2022 11:34 AM IST
In a recent Twitter post, Anand Mahindra shared how he was honoured with the Dean's Medal from the Fletcher School of Law and Diplomacy, Tufts University - where his father was the first Indian graduate.


Published on May 25, 2022 01:28 PM IST
The award, instituted in 1991 and given by the KK Birla Foundation, recognises outstanding literary work in Hindi authored by an Indian citizen and published in the previous 10 years. It carries a cash prize of ₹4 lakh.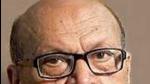 Published on Dec 09, 2021 12:27 AM IST