Amitabh Bachchan penned an apology as well as a gratitude note after making an 'error' in his blog. The actor shared the note on Sunday.

Published on May 28, 2023 02:56 PM IST
To commemorate the 82nd year of the greatest songwriter of all time, here's an essential Dylan song for every decade starting from the 1960s.

Updated on May 25, 2023 03:25 PM IST
Director James Mangold has revealed that Timothee Chalamet, who will play Bob Dylan in the upcoming biopic, will be singing for the character himself.

Published on Apr 10, 2023 12:39 PM IST
Writing to his sweetheart Barbara Ann Hewitt, a young man then named Robert Zimmerman discussed his dream to sell a million records one day. He would go on to sell 125 million.


Published on Nov 20, 2022 11:39 AM IST
The CBI had arrested Ramkrishna on March 6, a day after her anticipatory bail application was dismissed by the court.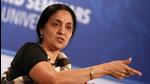 Updated on May 17, 2022 07:05 AM IST