Writing to his sweetheart Barbara Ann Hewitt, a young man then named Robert Zimmerman discussed his dream to sell a million records one day. He would go on to sell 125 million.


Published on Nov 20, 2022 11:39 AM IST
The CBI had arrested Ramkrishna on March 6, a day after her anticipatory bail application was dismissed by the court.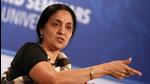 Updated on May 17, 2022 07:05 AM IST
The center in Tulsa, Oklahoma, is dedicated to the cultural significance of the elusive songwriter, and houses over 100,000 items from the musician's archives.

Published on May 10, 2022 03:49 PM IST
Bob Dylan emerged from the Greenwich Village folk scene in the early 1960s to become one of the most influential artists of the rock era.

Published on Aug 17, 2021 11:53 AM IST
The man in question, Howard Simon, recently sent the album along with a letter to Heights Libraries apologizing for his tardiness, according to a news release from the library system outside Cleveland.

Published on Jun 02, 2021 08:52 AM IST
AP |
, University Heights, Ohio