The Indian side is understood to be wary of the inclusion of new members who could gravitate towards a power centre and make the bloc more China-centric.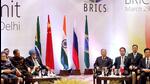 Updated on Jun 30, 2022 04:27 AM IST
The 14th BRICS summit was held last week (via video conference) with China playing the host and the 15th will be in South Africa next year.

Updated on Jun 28, 2022 02:31 PM IST
The BRICS remote sensing constellation will be made up of six existing satellites contributed by the space agencies of four Brics countries.

Updated on May 27, 2022 05:18 AM IST
In an address ahead of the BRICS foreign ministers' meeting, Xi said countries should not seek their own security at the expense of the security of other countries because that would create new tension and risks

Updated on May 20, 2022 03:55 AM IST
EAM S Jaishankar said BRICS has repeatedly affirmed respect for sovereign equality, territorial integrity and international law. "We must live up to these commitments," he said.

Published on May 19, 2022 07:41 PM IST