There are at least two petitions pending before the Supreme Court that have challenged the June 2022 notification of the Bihar government for conducting a caste-based census.


Updated on Jan 12, 2023 05:07 AM IST
In the first phase, which is scheduled to end on January 21, the number of all households in the state will be counted.


Updated on Jan 08, 2023 12:55 AM IST
The second phase of the survey which is likely to be held from April 1 to April 30 will collect date pertaining to people of all castes, sub-castes, socio-economic conditions etc.


Published on Jan 07, 2023 11:31 AM IST
Here are today's top news, analysis, and opinion. Know all about the latest news and other news updates from Hindustan Times.


Published on Jan 06, 2023 08:58 AM IST
The state cabinet had given a go-ahead for a caste based survey, including gathering information of socio-economic status of households, on June 2 in 2022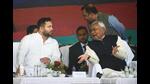 Updated on Jan 06, 2023 05:52 AM IST