The decisive third ODI between India and Australia is being played at the Chepauk Stadium in Chennai with the series locked 1-1.

Updated on Mar 22, 2023 08:15 PM IST
Reports have emerged that curator Taposh Chatterjee, who was in charge of the track for the first Test of the series, was asked by the erstwhile team management (read coaching staff) to stop watering and rolling the pitch.

Published on Mar 07, 2022 10:06 PM IST
The 234-members Tamil Nadu assembly elections will be held in a single phase on April 6 and the counting of votes will be done on May 2.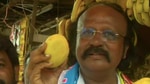 Published on Mar 27, 2021 03:17 PM IST