No details are available on the passengers and their condition at present.

Updated on Oct 21, 2022 01:45 PM IST
Kedarnath Helicopter Crash: Civil aviation minister Jyotiraditya Scindia said he was in touch with the state government to ascertain the magnitude of the loss.


Updated on Oct 18, 2022 01:02 PM IST
The pilots have been identified as captain Gopal Krishna Panda and captain AP Shrivastava.


Updated on May 12, 2022 11:06 PM IST
An army Cheetah helicopter — on the way to pick up sick personnel — crashed in Gurez area of north Kashmir on Friday afternoon, killing the co-pilot and injuring the pilot, said an official privy to the development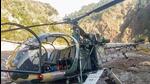 Updated on Mar 12, 2022 06:19 AM IST
The IAF confirmed that CDS Bipin Rawat was on board the chopper that crashed in Ooty on Wednesday. Three officials have been rescued so far while a search is on for the rest, an official said. The injured have been taken to Wellington cantonment in Nilgiris.


Published on Dec 08, 2021 01:29 PM IST