Latest from crimes against women
The revised version of the Shakti bill is expected to be placed before the Maharashtra legislature soon for approval.

Updated on Dec 23, 2021 03:57 PM IST
The NCRB, which functions under the Union home ministry, said that a total of 371,503 cases of crime against women were reported across the country last year in comparison to 405,326 in 2019 and 378,236 in 2018.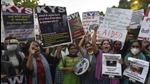 Updated on Sep 16, 2021 03:32 AM IST
Here are today's top news, analysis and opinion. Know all about the latest news and other news updates from Hindustan Times.

Published on Sep 14, 2021 08:51 PM IST
The police have also sent a notice to source code depository platform GitHub, using which these images were uploaded, asking it to share "relevant details".

Published on Jul 09, 2021 03:08 AM IST
The incident took place when the victim was alone in her house as her parents had gone to attend a wedding ceremony, a police official said.

Published on May 23, 2021 01:02 AM IST