AQI improved marginally but remained in the 'poor' category. It is expected to improve to the 'moderate' range.

The maximum temperature rose by two or three degrees in most parts of Delhi on Thursday, with "cold day" conditions largely abating in the region, the weather office said.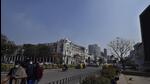 Twinkle Khanna has shared a candid post about daughter Nitara's sartrial choices during Mumbai winters.

The India Meteorological Department (IMD) has forecast that cold wave conditions will continue across Delhi on Tuesday. On Monday, the mercury dipped to 2.9 degrees Celsius at the Jafarpur weather station in south-west Delhi.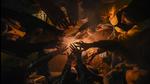 According to IMD, the lowest minimum temperatures recorded at 8.30am on Sunday over the plains of North India are: Churu (minus 2.6), Ganganagar (3.5), Narnaul (1.2), Hissar (2.0), Delhi (Safdarjung) (4.6). The temperature of Leh on Sunday morning was minus 16, Kargil minus 15.