Latest from economic package
Indian airlines seeking a comprehensive bailout package said the Centre's stimulus moves will give little relief considering the fleets are grounded and daily losses are mounting due to the lockdown.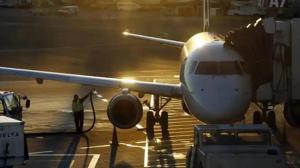 Updated on May 19, 2020 03:48 AM IST
More money should have been put in the hands of consumers to keep demand intact, especially as job losses are imminent, said retailers of apparel, phones, footwear and accessories

Updated on May 19, 2020 02:40 AM IST
In her fourth day of the briefing on the stimulus package on Saturday, Sitharaman announced "structural reforms" in 8 sectors - coal, minerals defence production, airspace management, MROs power distribution companies, space sectors, atomic energy.

Updated on May 17, 2020 08:55 AM IST
Sitharaman held her first press conference and shared details of the stimulus package on Wednesday.

Updated on May 16, 2020 11:48 AM IST
After rallying 1,474.36 points during the day, the 30-share benchmark surrendered some gains to settle 637.49 points or 2.03 per cent higher at 32,008.61.

Updated on May 13, 2020 06:03 PM IST