Latest from gateway of india
The directorate made a presentation to cultural affairs minister Sudhir Mungantiwar last week and apprised him of the deterioration.

Updated on Mar 08, 2023 02:35 AM IST
The case involves replacing the engines of these boats with older, and less powerful ones, and is being probed by the Economic Offences Wing (EOW) .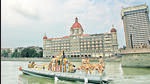 Updated on Jun 02, 2022 11:38 AM IST
Stranger Things season 4: The first volume of the season with 7 episodes released on May 27. The second volume with two episodes will drop on July 1.

Published on May 27, 2022 12:40 PM IST
The Global Citizen Live concert at Gateway of India in Mumbai was a star-studded event but it was Dia Mirza's fluid silhouette in spring's most elegant look, a powder blue pleated tunic, which grabbed all the fashion spotlight at the 24-hour music festival. Here's what it costs

Updated on Sep 27, 2021 02:05 PM IST
By
Zarafshan Shiraz
, Delhi
Photographers at the historic monument, Gateway of India in Mumbai, are struggling to stay afloat as the number of tourists coming to the place has declined due to the COVID-19 restrictions imposed by the authorities.


Published on Jul 04, 2021 08:50 AM IST