Maoism in Bihar started in the late sixties, but was at its peak in the eighties and the nineties when a number of violent incidents occurred in central and south Bihar and their tussle with the upper caste landlords was common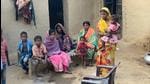 After watching the National Geographic Channel, the idea of conserving and protecting the birds came to the man's mind.
Manjhi said that he started work on his orchard, which consists of 10,000 trees, mostly guava, 15 years ago inspired by the 'mountain man' Dashrath Manjhi.
He recounted that Dashrath Manjhi, who singlehandedly carved a path through a mountain, came to his house one day.