HSBC buys Silicon Valley Bank UK: The purchase was negotiated by the British government and the Bank of England this week for the nominal sum of £1, or ₹99.

Updated on Mar 15, 2023 03:24 PM IST
Silicon Valley Bank crisis news: Bank of England officials indicated the fall of the Silicon Valley Bank would have little impact in the UK as the wider banking system in that country is 'safe and well-capitalised'.

Updated on Mar 13, 2023 03:21 PM IST
(Bloomberg) -- After drawing both cheers and rebukes from within the finance industry, HSBC Asset Management's suspended head of responsible investing has now caught the attention of academia.

Published on May 31, 2022 06:02 AM IST
HSBC's assistance will include help on food security, life insurance, education support for dabbawalas' families, and livelihood support in form of new bicycles when the lockdowns are lifted, an official statement said.

Published on Jun 17, 2021 06:25 PM IST
Activists from the Extinction Rebellion group smashed the window frontage of HSBC and Barclays in Canary Wharf last month and have targeted Lloyd's of London as part of what the activists cast as a "Money Rebellion". Activist Gail Bradbrook was arrested from her home on Tuesday.

Published on May 11, 2021 03:38 PM IST
Chief financial officer Meng Wanzhou -- whose father is the company's founder and CEO Ren Zhengfei -- has been in a two-year battle against extradition over charges Huawei violated US sanctions on Iran.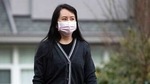 Updated on Mar 11, 2021 10:45 AM IST
AFP | | Posted by Harshit Sabarwal
Founded in Hong Kong but headquartered in Britain, HSBC has historically tried to remain politically neutral. Recently however it has shown support for Beijing, most notably last June when its top executive in Asia signed a petition backing China's imposition of a national security law on Hong Kong.


Published on Jan 26, 2021 09:41 PM IST