The archipelago nation had issued the ban last month to secure supplies of the commodity.

Union food secretary Sudhanshu Pandey will head the panel, which recently reviewed the availability of edible oils in the country and met representatives of major oil processing associations.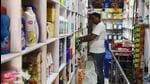 The presidents of Russia and Ukraine have accepted invitations from Indonesia, the current chair of the Group of 20, for a big ticket summit in November.
Trade Minister Muhammad Lutfi removed export curbs on March 18 and, instead, increased the palm oil export levy, blaming a "palm oil mafia" for exploiting the situation.

India is the world's biggest importer of palm oil and relies on Indonesia for nearly half of the 700,000 tonnes it takes every month.