Latest from jai ram thakur
The House witnessed a stormy debate over the no-confidence motion as the opposition members targeted the BJP government over law and order, unemployment, price rise and other issues.

Published on Aug 11, 2022 06:07 PM IST
Himachal Pradesh chief minister Jai Ram Thakur said that the Congress party is left with nothing, and the BJP should not be blamed for that.

Published on Jun 03, 2022 10:48 PM IST
Written by Sharangee Dutta | Edited by Aryan Prakash
, New Delhi
In the run-up to the Himachal Pradesh assembly elections at the end of this year, the focus is on the incumbent BJP's main challengers: the Congress, which tasted success in recent bypolls, and the Aam Aadmi Party (AAP) looking to repeat its stellar performance in Punjab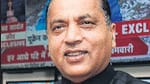 Updated on May 24, 2022 03:21 PM IST
Khalistani flags row: Chief minister Jairam Thakur had called the incident cowardly as a banned group took the responsibility.

Published on May 09, 2022 10:32 AM IST
Himachal Pradesh chief minister has called the incident "cowardly" and said a probe will be carried out into the matter. He added that strict action will be taken against culprits.

Updated on May 08, 2022 11:00 PM IST
Written by Sharangee Dutta | Edited by Poulomi Ghosh
, New Delhi