Jailed Yasin Malik began his indefinite hunger strike on Friday morning after the Centre did not respond to his plea that he be allowed to physically appear in a Jammu court hearing the Rubaiya Sayeed abduction case, in which he is an accused.


Updated on Jul 27, 2022 02:17 PM IST
The 56-year-old is currently undergoing a life sentence in Delhi's Tihar jail in connection with a terror-funding case.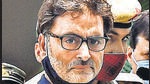 Published on Jul 14, 2022 12:38 AM IST
The National Investigation Agency had sought the death penalty for the separatist leader who was convicted on May 19.

Published on May 26, 2022 06:35 AM IST
Malik's trial took place in the court of special NIA judge Praveen Singh, who, among other things, observed that the case failed the test of 'rarest of rare cases.'


Published on May 25, 2022 10:01 PM IST
Farooq Ahmad Dar, who was the commander of the JKLF in 1989, was arrested in 1990 and charged with the killings of Kashmiri Pandits.

Published on Mar 31, 2022 12:28 AM IST