A 12-year-old boy from the United Kingdom had written a letter addressed to Ukraine President Volodymyr Zelenskyy and received a reply.

Former national security advisor (NSA) Shivshankar Menon, ex-foreign secretary Sujatha Singh, former home secretary GK Pillai, former lieutenant governor of Delhi Najeeb Jung, and former PM Manmohan Singh's principal secretary TKA Nair are among the 108 signatories to the letter.

Written by Sharangee Dutta | Edited by Aniruddha Dhar
, New Delhi
The move is part of the Bharatiya Janata Party (BJP)-led Madhya Pradesh government's initiative to inform the Centre about the number of houses built for the poor in the state and highlight the success of the scheme.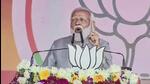 As many as 4,83,60,117 teenagers have so far been vaccinated against Covid-19 in India, of which, 11,28,099 have received both shots. Notably, India began vaccinating people aged above 15 from January 3 onwards.

Written by Sharangee Dutta | Edited by Poulomi Ghosh
, New Delhi
The Chinese embassy, in a letter to some of the members of the All-Party Indian Parliamentary Forum for Tibet, expressed concern over their attendance at the event and asked them to refrain from providing support to Tibetan forces.

PTI | | Posted by Sharangee Dutta
, Hindustan Times, New Delhi