Krishna Janmashtami 2022: On the occasion of Janmashtami, popular chef Pankaj Bhadouria shared 5 bhog recipes on her Instagram page that can be included in Lord Krishna's prasad thali


Updated on Aug 19, 2022 12:36 PM IST
Dahi Handi 2022: Dahi Handi is celebrated with much fervour by devotees of Lord Krishna all across the country. The festival is a sweet reminder of his endearing and notorious ways. Read on to know the date, history, significance and celebrations of this auspicious ritual.


Updated on Aug 19, 2022 07:13 AM IST
At least eight cases related to the Sri Krishna Janmabhoomi dispute will be heard in a civil court in Mathura on July 1 (Friday), when courts reopen after the summer vacation.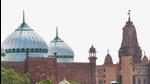 Updated on Jul 01, 2022 03:26 AM IST
The clampdown comes even as another right wing organisation, the Narayani Sena, has said it will take out a march from Vishram Ghat to Sri Krishna Janmasthan, demanding the "removal" of the mosque.


Published on Nov 28, 2021 08:39 PM IST
Jasna Salim, a 28-year old homemaker, has done over 500 paintings of little Lord Krishna, which have a large number of takers in and outside Kerela.

Updated on Sep 30, 2021 10:44 PM IST