In early June India tested the nuclear-capable Agni-4 intermediate range ballistic missile, also from Odisha.
Published on Jun 24, 2022 03:04 PM IST
Missile test-fired: Today's test comes after the surface-to-surface BrahMos supersonic cruise missile was test-fired on Wednesday.

Published on Mar 27, 2022 01:08 PM IST
The suspected missile was fired from an airfield outside the North Korean capital of Pyongyang, South Korea's defence ministry said in a statement.

Updated on Mar 16, 2022 07:11 AM IST
The defence minister said the inadvertent release of the missile took place during routine inspection and maintenance of the system.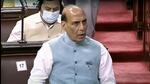 Updated on Mar 16, 2022 12:55 AM IST
North Korea has carried out three ICBM tests; the last in November 2017 of a Hwasong-15 -- deemed powerful enough to reach Washington and the rest of the continental United States.

Published on Mar 11, 2022 06:15 AM IST