In a letter Union health secretary Rajesh Bhushan asked the states to monitor clustering of new cases, conduct adequate testing with required measures in areas showing high positivity, and screen severe acute respiratory illness and influenza-like cases in all health facilities on a regular basis.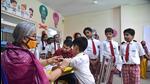 The state Human Resources Development Board in Mizoram has proposed a common uniform for all government schools in the north-eastern state.

The Mizoram government allowed schools and colleges to reopen, easing the COVID-related restrictions as cases in the Northeastern state continued to decline on Thursday.

In a press briefing on Thursday, joint secretary of Union health ministry Lav Agarwal said that India's active Covid-19 caseload has seen a drop from the earlier peak on January 21 when the country had 3,47,254 infections.

Written by Sharangee Dutta | Edited by Sohini Goswami
, New Delhi
In a very rare find, two birders have come across and photographed a Mount Victoria Babax, a bird species not seen in India since 1997, in Mizoram on Wednesday.