Mukul Roy, who is a founder member of the TMC, was a national vice-president in the BJP which he joined in 2017 following differences with chief minister Mamata Banerjee. His son, Subhranshu, also joined the saffron camp but returned to the TMC with his father in June last year.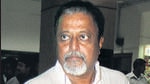 The Speaker represented by senior advocate Abhishek Manu Singhvi submitted an affidavit indicating steps taken pursuant to the Court's November 22 order where the Court took serious exception to the delay in deciding the petition against Roy.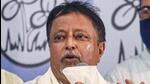 The court set October 7 as the deadline for speaker Biman Banerjee to place the action taken by him.

The 67-year-old politician has been keeping unwell after his wife Krishna died due to post coronavirus disease (Covid-19) complications at a hospital in Chennai in July this year.

Written by Harshit Sabarwal | Edited by Amit Chaturvedi
, New Delhi
When asked if the TMC will not be able to win the seat, Mukul Roy said it will be decided by the people of that constituency.