Latest from narottam mishra
The Bharatiya Janata Party's (BJP) MP unit president Vishnu Dutt Sharma said the national anthem should be recited at all educational institutions across the country.

Written by Sharangee Dutta | Edited by Sohini Goswami
, New Delhi
Mishra's statement came a day after Madhya Pradesh's school education minister Inder Singh Parmar said hijab should be banned from schools in the state, adding it is not part of the (uniform) dress code.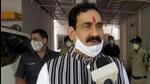 Shweta Tiwari has landed into trouble over her allegedly offensive statement about God during a press conference in Bhopal on Wednesday.

The minister's announcement came a day after an 11-year-old boy allegedly died by suicide after losing
₹
6,000 in an online game in Bhopal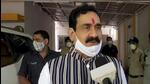 In a veiled attack against Congress, Madhya Pradesh home minister Narottam Mishra said that the party was in power at the time of the Nirbhaya rape case also and currently the ruling government in Rajasthan belongs to the Congress party.