Here are today's top news, analysis and opinion. Know all about the latest news and other news updates from Hindustan Times.

Published on Mar 03, 2021 09:39 AM IST
Her withdrawal marks the first high-profile defeat of one of Biden's nominees. Eleven of the 23 Cabinet nominees requiring Senate approval have been confirmed, most with strong bipartisan support.
Updated on Mar 03, 2021 05:50 AM IST
AP | | Posted by Prashasti Singh
, Washington
Neera Tanden, 50, is facing a tough time for the confirmation of her nomination over her past Twitter outbursts against several lawmakers, including those from her own Democratic Party.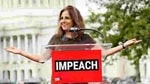 Published on Feb 26, 2021 12:04 PM IST
Klain said the White House is "fighting our guts out to get her confirmed" and hoping one Republican would offer support after West Virginia Democrat Joe Manchin said he would vote against her.

Published on Feb 25, 2021 08:43 AM IST
Neera Tanden's chances of nomination had already narrowed this week as Republicans and at least one Democrat -- Joe Manchin of West Virginia -- have said they won't support her.
Updated on Feb 24, 2021 08:26 PM IST
Bloomberg | | Posted by Ayshee Bhaduri