Calling for expediting the Naga peace process, Nagaland's deputy chief minister Y Patton reportedly said it would not be possible for any elected legislator to step down within six months or one year once the Nagaland Assembly elections, scheduled for early next year, took place.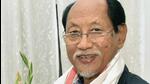 CM Neiphiu Rio said it was decided at the cabinet meeting that the Centre would be requested to repeal the controversial law from the entire northeast region and not just Nagaland.

Union home minister Amit Shah expressed his regret over the incident in Nagaland's Mon district and said the state probe would "ensure justice to the bereaved families".

A high-level SIT will investigate the encounter and justice will be delivered as per the law o the land. "Appeal for peace from all sections," the chief minister tweeted on Sunday.

Nagaland has received 26,500 vials of the vaccine for the initial phase of the vaccination and 100 health workers per district were listed to receive the vaccine on Saturday.