The tribunal said the new committee will be responsible for overseeing directions made by the NGT in all previous orders concerning the Yamuna.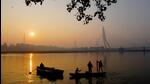 Updated on Jan 10, 2023 04:26 AM IST
A bench headed by NGT Chairperson Justice A K Goel said huge gaps exist in the management of solid and liquid waste in the southern state.

Published on Oct 01, 2022 10:02 PM IST
The Court order came on a petition filed by the Madhya Pradesh High Court Advocates Bar Association and the District Bar Association, having their registered offices at Jabalpur, which demanded for a bench in each state having a High Court.

Updated on May 19, 2022 03:41 AM IST
Damodar Tandel, the former head of the Akhil Maharashtra Macchimaar Kruti Samiti (AMMKS), had challenged the environment clearance for Chhatrapati Shivaji Maharaj Memorial in the NGT on grounds that the project would damage the environment and impact marine biodiversity

Updated on May 15, 2022 08:22 AM IST
By
Prayag Arora-Desai
, Mumbai
The NGT passed the order after a committee recommended to impose environmental compensation for one year for all pharma formulation industries and six months to Shri Kartikeya Pharma which is engaged in Ayurvedic Ashwagandha extraction, as the pollution load is less.


Published on Jan 19, 2021 01:29 PM IST