The house on Gupkar Road, overlooking Srinagar's Dal Lake, was allotted to Mehbooba's father, former chief minister Mufti Mohammad Sayeed, in 2005

Updated on Oct 22, 2022 06:20 AM IST
The BJP leader accused Mufti of 'poisoning young minds' for 'vested political interests'.

Published on Sep 20, 2022 03:29 PM IST
The party, headed by her sister – former Jammu and Kashmir chief minister Mehbooba Mufti – said Rubaiya only identified JKLF chief Malik and not several others, as reported in the media.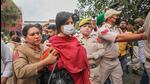 Published on Jul 16, 2022 11:40 PM IST
The PDP president was referring to the recent incident in Pakistan where an anti-terrorism court in Pakistan sentenced six people to death and nine others to life imprisonment for their involvement in the lynching of a Sri Lankan national over alleged blasphemy.


Published on May 25, 2022 08:15 PM IST
Written by Kanishka Singharia | Edited by Aniruddha Dhar
Waheed Parra was arrested on November 25, 2020 by the National Investigation Agency after being questioned over his alleged involvement with the Hizbul Mujahideen terror group.

Published on May 25, 2022 03:08 PM IST