Latest from prasar bharati
AIR has been officially known as Akashvani -- a name proposed by Rabindranath Tagore meaning "voice from the sky" -- since 1956.

Updated on May 04, 2023 05:00 AM IST
By
Deeksha Bhardwaj
, New Delhi
Applicants can submit their forms on applications.prasarbharati.org within 15 days from the publication of the advertisement.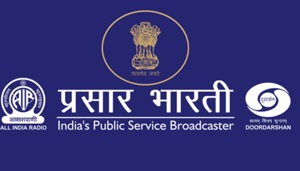 Published on Apr 19, 2023 12:35 PM IST
India's vaccine story owes its success in great measure to Mann ki Baat. That alone is tribute enough to its relevance and significance

Updated on Apr 16, 2023 07:54 PM IST
Chinese foreign ministry spokesperson said Beijing China had "no choice but to take appropriate counter-measures" after the Indian side "ignored" issues with visas of Chinese journalists

Updated on Apr 06, 2023 08:59 PM IST
Anshuman Mishra and Ananth Krishnan were informed by Chinese officials that they should not return to China as their visas were frozen.

Updated on Apr 05, 2023 05:40 AM IST